This post contains affiliate links. You can read my disclosure policy here.
I went to the PaleyFest Fall TV Preview for the first time on Tuesday and honestly, I did not leave happy. It was held at the Paley Center for Media in Beverly Hills. However, the one good thing that came from this experience is that I can share what I learned with you. I follow the Paley Center on twitter which is how I found out about the fall preview. I was interested in attending the FOX preview night which featured the shows The Grinder, Grandfathered and Scream Queens.
A way to save on tickets is to purchase them from Goldstar where they will appear a few weeks after going on sale for a discounted price. It is always good to know how to get discounted tickets and yes if you are a member of the Paley Center you do get discounted tickets as well as priority entrance to the events but for $75 you aren't really saving money.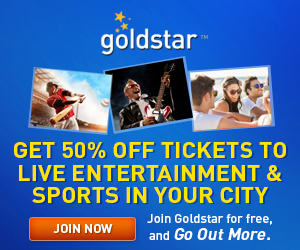 PaleyFest in the spring takes place at the Dolby Theatre in Hollywood but the fall preview is at the Paley Center in Beverly Hills. You can park across the street from the Paley Center behind Chipotle in a parking structure.  The price is $2 an hour and free after 6pm so you won't need to worry about adding time to keep from getting a ticket. It mentioned on their website that from 6pm-7pm there would be a reception but I wasn't really sure if that would include food and beverages so my friend and I ate at Fatburger across the street beforehand. I can now tell you that there are servers walking around with appetizers, you can get free soda, and bags of chips and fig bars. It is not enough to make a meal out of but you can certainly snack.
After my friend and I ate we went to get in line around 5:30pm. There was a general admission line and a members line. The FOX preview was the only one that sold out so I knew it would be a bit crowded so I wanted to show up before 6:00pm to try and get a good seat. I did read on their website that seating was not guaranteed in the main theatre. I thought that meant that you are not guaranteed a seat but that you could stand in the back if seats are no longer available. What it actually means is that if you do not get a seat in the main theatre you have to watch the event from another room on a tv. All of the q&a's are live streamed on the internet and if you miss the live stream you can still watch it later so if you do not get a seat in the main theatre you will be getting the same experience at the Paley Center that you could be having in your own home.
Interested in attending Celebrity Events like this in the future? Find out how here.
The whole reason I came to the event was to see John Stamos and Rob Lowe. The problem was that when we checked in to get our ticket we were not told that we needed to go directly to the theatre to claim a seat and there were no signs saying where to go. We were handed our tickets with no directions or information and were left to figure it out for ourselves. I was trying to look for an entrance but just saw people enjoying the reception so I headed over to get a soft drink and then found out that the ladies that had been in line behind me were the last ones admitted into the theatre.
For future reference, the main theatre is located upstairs and you will want to go there and leave a jacket claiming a seat. They will put a sticker on your ticket so they know you came from the main theatre and then you are free to spend the hour enjoying the reception. My friend and I were redirected to a small room with three rows of chairs and were very disappointed that we would not get to be in the theatre with John and Rob.
Neither of us had realized that limited seating meant that if you didn't get a seat in the main theatre you wouldn't get to go inside. We would have skipped Fatburger and gotten in line way earlier than we did had we known.  A different friend of mine had gone to their event on Saturday and showed up after the reception but was still able to get to the theatre so I never imagined that I wouldn't get in. I hope in the future they will change their mind about overbooking the events because people do not drive from Orange County to Beverly Hills to watch a live event on a tv screen when they can do that for free at home. My friend and I decided to see if we could get our money back since we were not getting the experience that we paid for.
The man we spoke with tried to argue that the reception was worth our money and let me tell you that it is not. We also tried explained that nowhere on the website does it say that overflow seating takes place in another room. In my opinion, if you pay full price you deserve the full experience and the overflow room felt like a huge ripoff. The man also informed my friend that since no photos and autographs would take place that we weren't missing out on anything.
Would I have loved photos and autographs? Of course! But the whole point was about getting to be in the same room with them and potentially getting to talk to them by participating in the q&a which you have to be in the room to do. Also, the first person to ask John Stamos a question asked for a picture and he left the stage to walk out to her and take a picture. Rob Lowe signed autographs after speaking which proved my point that there is a big difference in your experience when you are in the room. I only know about the picture and autographs because I watched the live stream of the event when I got home.
Eat a little before you leave because some events are long and the snacks are not too filling. You can park for a very reasonable fee and will not need to worry about adding time to a meter. And lastly please be aware that even if no one gives you direction after you check in head up the stairs and get a seat before they fill up. I hope this helps you have a much better experience than me. One other thing that I want to make sure that you know is that the Paley Center is just one block away from Rodeo Drive which is something to see if you have never been there before.