This post contains affiliate links. You can read my disclosure policy here.
How To Get Tickets To The Ellen DeGeneres Show
**All photos in the post were taken during my time on the Warner Bros Studio Tour. You are not able to take photos of the set when you attend a taping. Though you can take photos in the riff raff room. **
Have you ever wondered how you can get free tickets to the Ellen DeGeneres show? I went to Ellen's website and clicked on one of the available taping dates to request tickets. Unlike other shows that give out tickets immediately when you apply the tickets for Ellen are done via a lottery system. Unfortunately, they are not given on a first come first serve basis. If you are given tickets someone from the show will contact you. I wish you could know right away but unfortunately, that is just not how things work.
A few weeks before the taping date I got a call from someone who works for the show. They told me that I would receive two standby tickets to the Ellen DeGeneres Show and there would be no guarantee that I would get in. You will get guaranteed tickets to a future taping if you don't make it inside. The only bummer is that you have to come back to use the guaranteed tickets. However, going was one of the best decisions that I have ever made. Update – they no longer call but will email you about tickets.
This post was originally written when I first went to the show back in 2012. My most recent visit to the show was 4/2/2019. Once again I had standby tickets but now I know that in order to have the best chance of making it into the show you should plan to arrive between 5:30am-6:00 am. It's crazy early I know! But, there are days where only 3-5 people from the standby line will make it in and in those cases, it pays to arrive early. Someone should arrive to check you in at 9 am. Once you are checked in you are free to leave to get food or do anything else in the area. They will tell you what time to return by. 
Interested in attending Celebrity Events like this in the future? Find out how here.
If you arrive early enough to have time for a sit-down lunch I highly recommend the Smokehouse Restaurant. It was a favorite of Walt Disney and George Clooney. Tv shows and movies like La La Land have even filmed there.
How I Got Tickets to Ellen's 12 Days of Giveaways
When I first went to the show in 2012 I did not make it into the studio audience. If there is not enough room for the standby ticket holders you have to watch the show from the riff-raff room which is also the Ellen shop. While I was in the riff-raff room we were all given a number. The riffraff room also happens to be the Ellen shop where you can find items like Ellen underwear. Three numbers were pulled from a bowl. The winners were given two tickets to come back for Ellen's 12 Days of Giveaways. When I attended the show again on 4/2/2019 even though I had standby tickets I was able to make it into the studio audience this time. They taped 1 and a half show. It was during the second taping that the entire audience received 12 Days tickets!!
I was extremely shocked when my number was pulled and I still can't believe that I got that lucky! Colin Farrell was one of the guests on the show that day. During a commercial break, he and Ellen came out to wave and say hi to us which was so cool. Cody Simpson was the musical talent on the show that day so we all left with a free copy of his cd.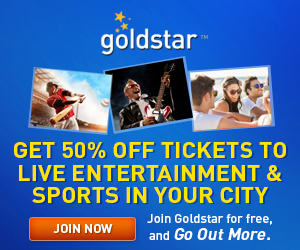 In November I got another call from The Ellen DeGeneres Show letting me know which date our tickets would be for so that we could plan our work schedules around it. The day finally came for us to go back to Warner Bros. Studio and we were full of excitement and anticipation of what would happen on the show.

My 12 Days of Giveaways Goodies
Caitlin and I were incredibly blessed and grateful to receive a Ticketmaster gift card, an Alternative Apparel gift card, tickets to a Fleetwood Mac concert at the Hollywood Bowl, a closet makeover from the Container Store and a couch from Laz Boy. If you go to a 12 Days show make sure to bring a pen and something to write on for the tax forms.
Once we had filled out the tax forms we were led to the hallway where we were given the gift cards. We were also handed the tickets for the Fleetwood Mac concert, a cute small hanger which held the information for redeeming the closet makeover from the Container Store and a packet of information on how to order the couch from Laz Boy.
There is no guarantee of getting tickets to Ellen's 12 Days of Giveaways but it can certainly happen to you.  She likes to give some of her audiences tickets to come back for a 12 Days show. She often holds contests on Facebook to win tickets to the show and of course, you might wind up winning tickets from the riffraff room as I did. I wish you the best of luck and hope that you will get the chance to have the amazing experience that I did!
Advice For Ticket Holders From Out of Town
If you do not live close to Burbank you will want to get a hotel in the area. I would encourage you to take the Warner Bros. Studio VIP Tour prior to the taping so that you can get the most out of your show. Universal Studios Hollywood is also close by so that is another option of something fun for you to do while you are in the area. Even if you do not have enough time to go inside the park you could visit their city walk for some dinner and entertainment! Oh and if you are not from California I highly recommend that you make time in your visit for In-N-Out. Would you like to attend a taping? You can request tickets here.